CutPRO® Cut Resistant Shirts made out of Cut-Tex® PRO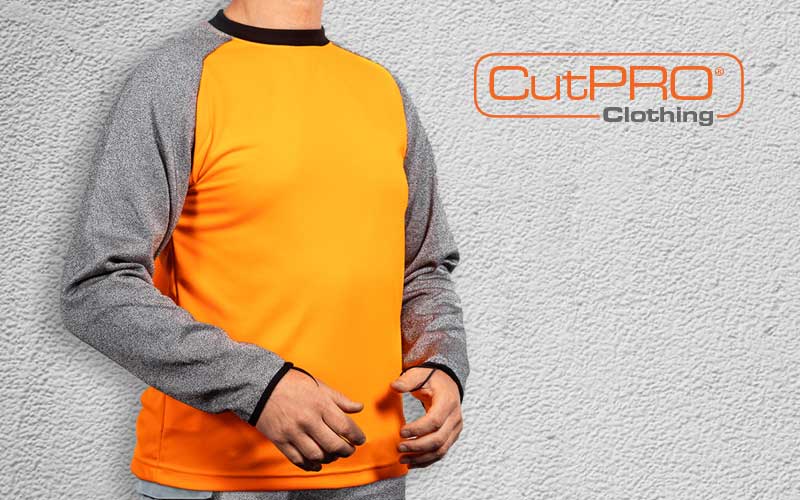 The world's most advanced cut resistant fabric Cut-Tex® PRO is now being used to produce high performance cut resistant shirts to effectively help protect glaziers and glass workers from accidental cut injuries and improve their personal safety.
We all know glass is a fantastic multipurpose raw material but working with it can sometimes present the risk of serious cuts and lacerations. Manual handling of glass is however unavoidable in most production or processing plants, hence it is of great importance to issue cut resistant shirts to protect the worker's body from injury in case the glass breaks or shatters.
In terms of performance it really doesn't get much better than this. CutPRO® cut resistant shirts have recently been launched and tested to the revised European Standard EN 388:2016 and passed comfortably as Level 5). They also been tested against the International (ISO 13997:1999 Level 5) and American (ANSI/ISEA 2016 Level A5) blade cut resistance standards. All available test results confirm its truly outstanding cut protection as well as abrasion, puncture and rear resistance levels.
CutPRO® cut resistant shirts are the result of far-reaching research and valued input from health and safety professionals of leading flat glass and sheet metal processing and production companies.
Our forte is to design and produce bespoke cut resistant shirts and trousers based on our customer's operational risks, precise job responsibilities and design preferences. We strongly believe that every flat glass or sheet metal production and processing facility is different.  In once case it might be the precise type of end product or the technology/machinery used, and in another case it might be the percentage balance breakdown between actual 'more risky' manual and automated work.
For that reason we equally believe different type of cut resistant shirts are required.  We believe different designs are needed, and we are here to listen to our customers in order to ensure they end up with the precise model or cut resistant shirts they desire.
CutPRO® cut resistant shirts are 5 times more cut resistant than Kevlar® products rated level 3 at 5N.
They offer exceptionally high levels of cut, abrasion, puncture and tear resistance (according to EN 388:2016 – Protection Against Mechanical Risks) and are an extremely durable cut resistant shirts brand, offering ANSI/ISEA 2016 Blade Cut Resistance Level A5.
All garments are being manufactured in the European Union and will be CE marked (Cat II PPE) where applicable.
Please email info@cut-pro.com visit www.cut-pro.com or call +44 (0) 845 5193 953