INDUSTRIAL
HEALTH & SAFETY
Cut Resistant Clothing In The Glass and Metal Industry
Cut-Tex® PRO is used in cut resistant clothing, such as the highly acclaimed CutPRO® brand. Such PPE is designed to protect professionals in the glass and metal industries from cuts and lacerations primarily during any manual handling.
Made from Cut-Tex® PRO, each garment offers outstanding levels of cut, tear, abrasion and puncture resistance, while being durable, lightweight and comfortable. It provides the best possible defence against cuts and lacerations and gives workers personal protection they will want to wear.
---
Cut Resistant Clothing: Video
---
We understand that the handling of flat glass and sheet metal comprises the risk of personal injury. Due to human errors, accidents will continue to happen especially in premises where glass and metal is manually handled and processed. This is why appropriate cut resistant clothing should be worn in such environments.
CutPRO® Cut Resistant Clothing can be deemed as appropriate.  It is fully CE certified, meaning it complies with all European laws and regulations.
It is offering ANSI/ISEA 2016 Level A5 and EN 388:2016 Level E of blade cut resistance, as well as the highest levels of puncture and tear resistance, according to EN 388:2016.
CutPRO® Cut Resistant Clothing is the result of extensive research and contribution from health and safety professionals of leading flat glass and sheet metal processing companies.
Together with the department of apparel of one of the UK's top universities, we have designed a range of garments ideally suited for the glass and metal industries yet fully adaptable to a firm's individual needs.
We work with our customers to ensure clothing is tailored to their unique operational risks and needs, role responsibilities, branding and design preferences. Each garment can be customised with breathable areas, high visibility, choice of cuffs and collars, and brand colours to ensure precise protection with optimum usability.
CutPRO® Cut Resistant Clothing can effectively help you replace three items:
Cut Resistant PPE – its cut resistant capabilities will eradicate the need for supplementary garment
Workwear Uniform – the clothes are intended to look like a standard workwear uniform, with choices for colours and company/brand logos
High Visibility Garments – some facilities require workers to wear additional layers with hi-viz tapes.  To substitute this need, we can use high visibility tape/high visibility colours on all of our garments.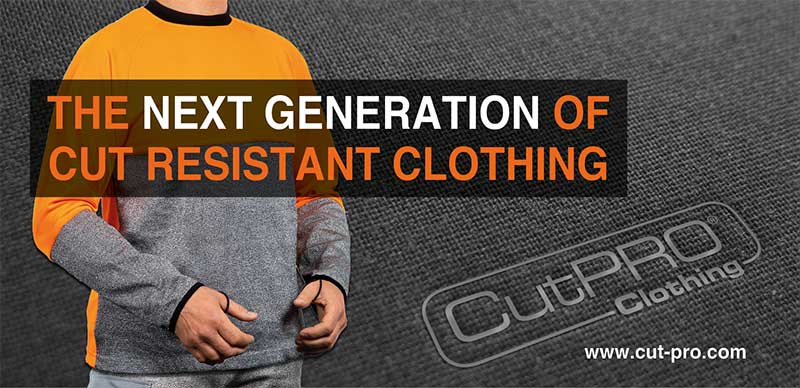 Cut Resistant Clothing: Applications and Sectors:
Glass fabrication and processing
Metal fabrication and processing
Air Conditioning production and installation
Automobile manufacturing
Waste and recycling
Our dedicated team is available to offer advice and support to help you choose the right products for your team. Contact us on +44 (0) 845 51953 or email info@cut-pro.com.