Cut-Tex® PRO Cut Resistant Fabric for Uniform and Tactical Apparel Manufacturers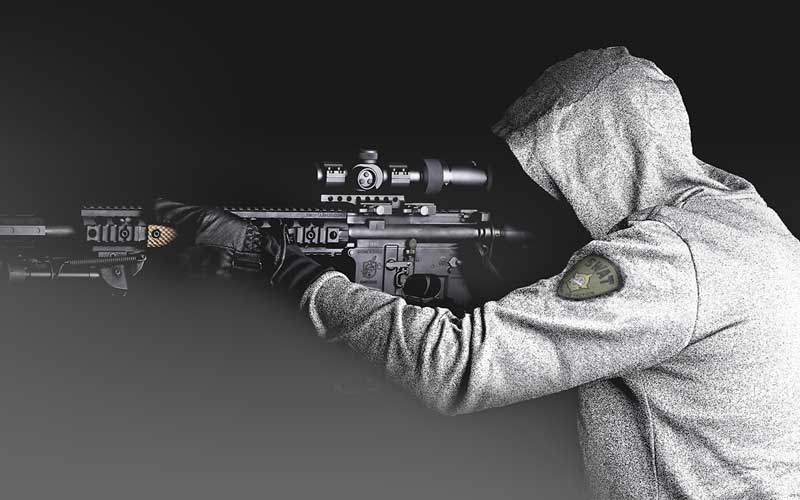 Cut-Tex® PRO high performance cut resistant fabric has been developed following thousands of cut related injuries at all sorts of different workplaces around the world.
Men and women at risk are the ones who protect our countries, especially all homeland security professionals, such as law enforcement and correctional officers.
For many years leather was accepted and understood to offer a minimal level of protection against cut related injuries, but a real need for advanced wearable protection called for specially engineered fabrics assuring the wearer does not suffer a lack of dexterity.
The objective of UK based PPSS Group was not just to create a fabric which protects a person from cuts but also to allow him or her to continue to do the work they are doing with a minimum of discomfort and mobility restriction.
Following extensive research and testing of Cut-Tex® PRO, we launched our extensively tested and certified ISO 13997:1999 blade cut resistance level 5 (the highest possible) and ASTM F-1790 blade cut resistance level 4 fabric in 2013.
Please watch me, slashing myself with a Stanley knife (box cutter knife), as I demonstrate my firm's product, Cut-Tex® PRO.
I guess only a man with a solid belief in his firm's products would take on such unique challenge.
This video is proving that Cut-Tex® PRO cut resistant fabric offers reliable and effective protection from sharp objects and edged weapons.
With an incredible blade cut resistance of 27.8 Newton, a truly exceptionally high level of tear and abrasion resistance and outstanding durability, Cut-Tex® PRO cut resistant fabric became the new benchmark.
Offering this cut resistant fabric to uniform, tactical apparel and textile manufacturers, means enabling them to incorporate this high performance cut resistant fabric into clothing and uniforms, protecting especially vulnerable areas from potentially horrendous cut injuries, subsequent rapid blood loss and potential death.
We strongly believe that especially the following five areas and arteries require such level of added protection from edged weapons:
Radial Artery: Located in our wrists
Brachial Artery:  Just below your bicep
Carotid Artery: Located in your throat
Axillary Artery: Located under your arm pits
Femoral Artery: Located in the thigh and groin (inner leg) area
Cut-Tex® PRO can act as a safety net when the concentration of a frontline professional is compromised, or when he/she is faced by a hostile member of the public.
Cut-Tex® PRO is now being manufactured under strict ISO 9001:2008 at a strictly confidential manufacturing facility in the heart of England.
Cut-Tex® PRO is available in two standard colours (minimum order volume: 1 roll / 40sqm) and additional colours (minimum order volume:  15 rolls / 600sqm)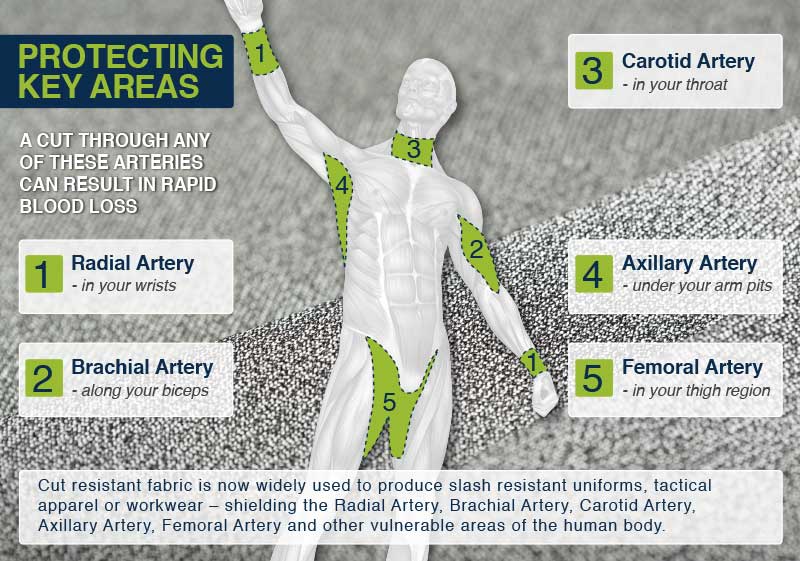 The technical specification sheet can be viewed here
Please also follow our CEO's blog specifically and generally about the industrial (flat glass and sheet metal) cut resistant clothing market.
If you want to speak with my team about our high performance fabric… please call +44 (0) 845 5193 953, email info@ppss-group.com or visit www.cut-tex.com