Cut-Tex® PRO Cut Resistant Fabric – Protecting Valuable Lives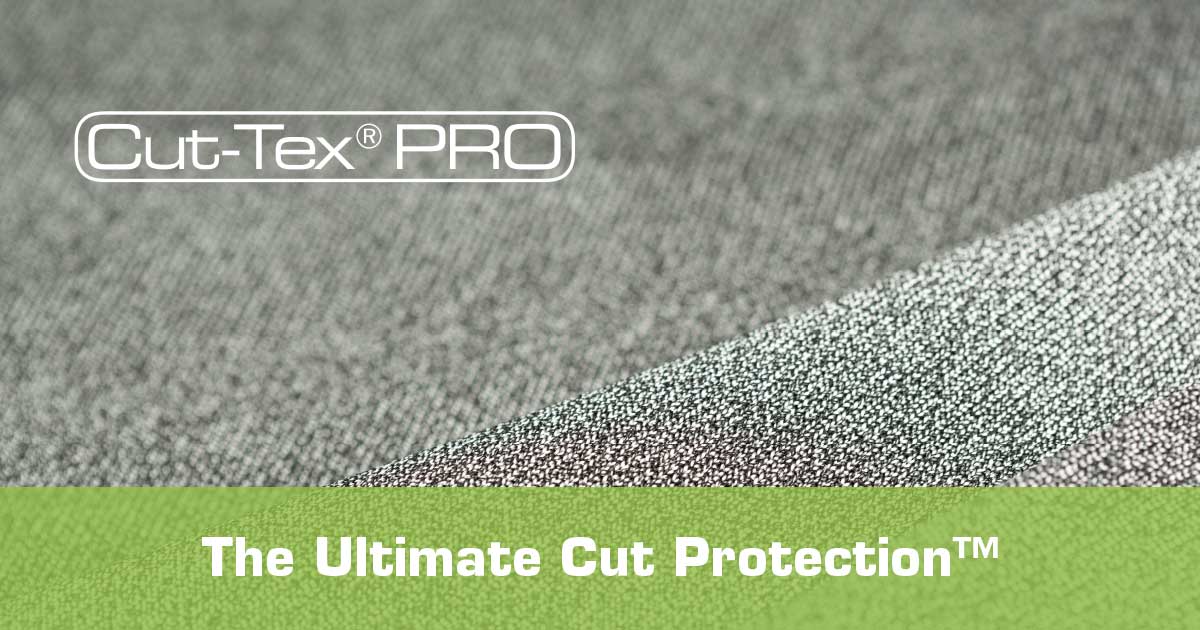 The question I have been asked several times over the past few years is: "Why did you actually create your Cut-Tex® PRO Cut Resistant Fabrics… what was the actual reason behind it?"
Well, I set up my firm PPSS Group in November 2010 and right on day one we set a mission statement: "Protecting Frontline Professionals from Human Threat".
It was on 13 March 2011 when Craig Wylde (now good friend of mine and father of my god daughters) was brutally assaulted. Having previously served as Infantry soldier in the British Army, Craig ultimately became a prison officer at the Category A (high security) Frankland Prison, in Durham, England. One morning he opened a prisoner's cell door… the prisoner had a broken glass bottle in his hand… he stabbed/slashed Craig under his arm… he severed his artery, muscle, tendons, ligaments and created severe nerve damage. This horrendous incident has been widely reported about in the news across the entire UK.
When we ultimately met, we (together with his wife) had a lengthy and very emotional conversation about the incident itself, but also about the physical, emotional and psychological impact it had on him and his family. We also discussed how such incident could be prevented in the future and we both had of course several ideas, which I don't think I need to mention here right now. PPE (Personal Protective Equipment) was also being mentioned, and Craig stated that even a £1,000 body armour would not have made any difference as the area he was stabbed is exposed by all mainstream body armour.
This was the most important day during the development, design, engineering and planning of our high performance cut resistant fabric known as Cut-Tex® PRO. I had already worked on some type of cut resistant fabrics, but I soon came to realise that a 'good performance' wasn't good enough. So, I ended up traveling the world, meeting and consulting some of the globally most respected textile engineers out there. Then the day came when we concluded "this is as far as textile engineering allows us to go at this stage", and we really had pushed it as far as we could have.
Now we look at Cut-Tex® PRO as such highly versatile, fully certified and thoroughly field tested and ultra-durable cut resistant fabric, protecting and saving lives all over the world.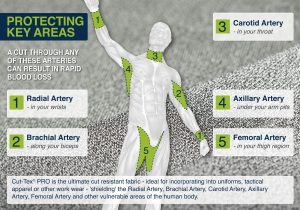 It has been tested against several British, European and American blade cut resistance standards. We took this action to substantiate independently the extraordinary protective properties of our fabric, and back up all claims we are making.
Cut-Tex® PRO Cut Resistant Fabrics – Performance Levels
ASTM F-2992-15 Blade Cut Resistance Level A5
EN 388:2016 Blade Cut Resistance Level E (TDM 100 Test)
EN 388:2016 Blade Cut Resistance Level 5
EN 388:2016 Puncture Resistance Level 4
EN 388:2016 Tear Resistance Level 4
EN 388:2016 Abrasion Resistance Level 3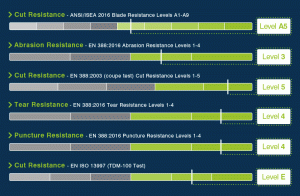 It also reached Level 5 when tested to the International Standard ISO 13997:1999. This is regarded to be one of the most stringent and efficient standard for blade cut resistance.
Cut-Tex® PRO is also 'skin friendly'. At pH 6.6, our fabric has a pH value similar to that of water (usually between 6.5 and 8.5). This makes it an extremely low risk skin irritation fabric. It will maintain the skin's natural balance.
Many professionals within the tactical apparel, workwear, uniform and textile industry continuously seek to improve and develop new cut resistant and innovative protective clothing.
Cut-Tex® PRO Cut Resistant Fabrics – Applications
Just as an example, the highly acclaimed SlashPRO® Slash Resistant Clothing brand is using our fabric, protecting homeland security, law enforcement, prison services, border force, immigration, customs, covert police, counter terror units, surveillance and others.
'Slashing' or 'slash injuries' are extreme 'under-reported'. Historically 'knife injuries' have been reported as 'stab injuries', hence we have been made to misbelieve that both mean the very same. Maybe you want to read one of my more recent articles: "Re-Evaluating Our Current Understanding Of Knife Attacks And Injuries"
"A retrospective survey of hospital admissions data that contributed to the development of the standard suggested that 63 % of wounds attributable to sharp edged weapons were SLASH events." – by Ian Horsfall and Mathew Arnold, of the Impact and Armour Group within the Department of Engineering and Applied Science at Cranfield University, Defence Academy of the UK.
Cut-Tex® PRO will continue to reduce the risk of cut injuries and laceration. This particular risk and the potential impact of such injuries can be of multiple nature:
Financial consequences and repercussions to employers.
Legal consequences and repercussions to employers.
Operational consequences e.g. identifying and training replacement for injured employee.
Moral consequences and repercussions… but that's of course subject to the employers being 'good human beings'.
Physical pain, injury, scars, psychological trauma and more.
Moving away from 'slashing', we have subsequently created other protective clothing brands, targeting other markets, and again trying our best to prevent bite and cut injuries in those sectors, utilising our outstanding cut resistant fabrics:
CutPRO® Cut Resistant Clothing – for flat/float glass, sheet metal and air conditioning industry etc.
BitePRO® Bite Resistant Clothing – for mental health care, special educational needs, psychiatric social workers etc.
However, our highly acclaimed fabric is also being in used rather different applications, such as ice hockey, ice speed skating, theft proof bags or power boating and others.
We need to stop thinking that everything will be ok. We need to stop believing that nothing is ever going to go to happen, simply based on that fact that the past has been very kind to us and no one has been injured in our company, facility or organisation yet.
I think we all should aim to prevent cut injuries rather than continuing with the habit of fixing things when they have gone wrong. Cut-Tex® PRO has been developed with exactly this in mind.
Cut-Tex® PRO – Where Can I Buy It From?
Should you have any questions in reference to our cut resistant fabric Cut-Tex® PRO, or if you wish to purchase it, then please email us info@cut-tex.com and visit our dedicated website www.cut-tex.com
Robert Kaiser, CEO
PPSS Group