US Startup Engages with UK Manufacturer to Launch the Most Practical and Theft-Proof Drawstring Backpack Ever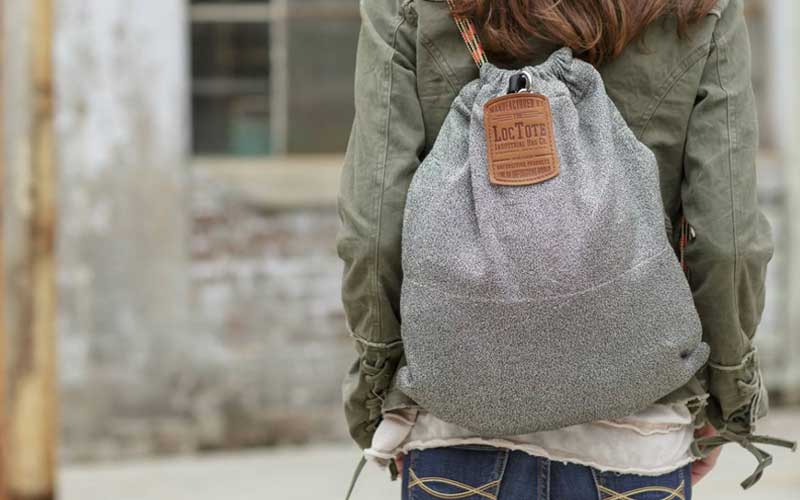 New Albany, Ohio – March 31, 2016 – The LOCTOTEINDUSTRIAL BAG COMPANY will launch a product on Kickstarter.com (a crowdfunding website) on April 5th that solves a problem faced daily by active people all over the world – where to put personal items and valuables like your wallet, purse, electronics, keys, jewelry, and passport when they cannot be with you or in your constant field of vision. When left behind, even when hidden in a coat pocket, shoe, or typical purse or backpack, these items are an easy target for thieves.
The Flak Sack is a practical, soft, flexible, attractive, drawstring backpack that is essentially a portable safe for your belongings. It incorporates a hidden locking mechanism that enables the bag to be locked shut, and locked to a stationary object. This patent-pending locking mechanism is extremely difficult to cut, and tested to handle over 1,000 lbs of force without breaking. The bag is made from CUT-TEX PRO, a proprietary slash-proof and extreme cut-resistant fabric manufactured by PPSS Group in the U.K. To demonstrate its cut resistance, LOCTOTE's CEO posted a video of himself getting slashed by a box cutter while wearing a t-shirt made of the same fabric, and sustaining no injuries (http://loctote.com/features/#cutvid). Inside, the Flak Sack has a large waterproof pocket that is lined with an RFID shielding material that makes it impossible to scan personal data through the bag.
"This is the bag that everybody, at some point in their life, wishes they had," said Don Halpern, LOCTOTE founder and CEO. "Sometimes you just need a safe place to put stuff while you do something else, and you don't want to hump around something heavy or impractical to do it. Our purpose for creating this bag really is that simple."
Initially, the only way to get a LOCTOTE bag is through Kickstarter. The campaign will go live April 5th, but can be previewed here. At the conclusion of the Kickstarter campaign, the company will make the Flak Sack available for purchase through their website.
About LOCTOTE INDUSTRIAL BAG COMPANY
LOCTOTE INDUSTRIAL BAG COMPANY is a small start-up founded by a New Albany, Ohio businessman who believes strongly in creating innovative products to solve real-world problems. With quality and craftsmanship paramount, they scour the globe to find the absolute best technologically advanced materials, and manufacture in small hardworking American towns with people and businesses that matter. The company will compromise on nothing when it comes to quality and authenticity, and cut no corners in crafting goods built to outlive their owners. According to LOCTOTE's CEO, there's nothing fancy and no secret formula to what they do. "We're just hands-on hard-working folks providing customers handcrafted hard-wearing products at a fair price. It's really quite simple."
Press Contact:
Don Halpern – Founder & CEO
LOCTOTE INDUSTRIAL BAG COMPANY
don@loctote.com
www.loctote.com
(614) 582-6669