Cut-Tex® PRO is being used to manufacture Bite Resistant Clothing and Arm Guards for Mental Health Care Facilities and Secure Hospital Facilities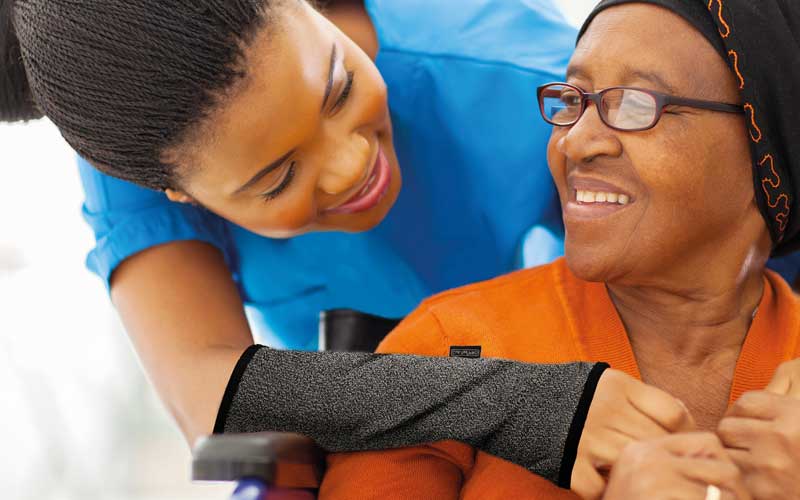 Cut-Tex® PRO is one of the world's most advanced technical fabrics, now also being used to produce BitePRO® Bite Resistant Clothing & Arm Guards.
This great range of comfortable and user-friendly clothing has been designed to effectively protect the wearer from human bites.
Mental health care professionals, psychiatric nurses and social worker, as well as schools specialised in severe learning disabilities, challenging behaviour, special needs and autism are at risk of being bitten.
Even if this fabric cannot stop the sometimes severe bruising following a human bite, it will eliminate the risk of potentially severe infections following the skin penetration of a human bite.
Workplace violence is one of the most complex and dangerous occupational hazards facing nurses working in today's health care environment and special education teachers. The dangers arise from the exposure to violent service users combined with the absence of strong violence prevention programs and protective regulations and equipment.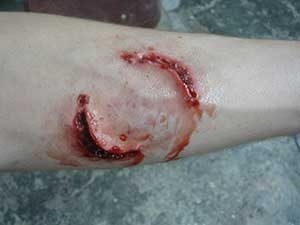 There have been 67,864 reported physical assaults against NHS staff in England in 2014-15, according to new figures released by NHS Protect. Of these, 45,220 assaults were in the mental health sector, 19,167 were in acute care, 1,861 were in the ambulance sector and 1,616 were in primary care. This is out of a total number of 1,304,263 NHS staff in England.
In USA healthcare workers are hit, kicked, scratched, bitten, spat on, threatened and harassed by patients with surprising regularity. In a 2014 survey, almost 80 percent of nurses reported being attacked on the job within the past year. Health-care workers experience the most nonfatal workplace violence compared to other professions by a wide margin, with attacks on them accounting for almost 70 percent of all nonfatal workplace assaults causing days away from work in the U.S., according to data from the Bureau of Labour Statistics.
BitePRO® Bite Resistant Clothing & Arm Guards
Made from 100% Cut-Tex® PRO fabric our bite resistant clothing and arm guards can very effectively help protect special educational needs teachers (SpecEd, SpEd or SPED) as well as mental health care professionals and other specialists within high secure hospitals.
BitePRO® Bite Resistant Clothing can prevent human bite injuries, which can subsequently be contaminated with pathogens. Transmissions of potentially life threatening viruses, such as Hepatitis B, Hepatitis C or HIV. It's hard to imagine that a lightweight and flexible fabric could work as effective protection against human bite injuries.Cut-Tex® PRO naturally lends itself well to protection against human bite injuries.
The BitePRO® website has full details regarding the different types of bite-resistant clothing, including upper and lower body garments, gloves and arm guards: www.bite-pro.com.
BitePRO® Bite Resistant Clothing & Arm Guards: Testimonials
"I have to say we have been very impressed with the help from all persons contacted at PPSS Group… As you are probably aware we are a special needs school, which deals with very challenging behaviour that includes tearing and biting of garments and bedding; finding your company was a godsend to say the least. We have used your t-shirts and sample of material made into pillow covers for some of our children and found they were great for the prevention of holes being made in them."
P. Blower
The Loddon School, UK
"The BitePRO protective clothing we purchased from you has really assisted the staff in dealing with a young client that exhibits extremely challenging behaviour. Some of the behaviour involves very serious self-biting and biting staff when then assist him in his everyday needs. The BitePRO clothing (both pants and tops) have protected the staff and the client from serious injury even though the client has bitten himself and the staff when they are wearing the clothing. Our staff wear the BitePRO tops throughout their shift and feel more confident when working with the client knowing that they have 'protection' at all times should the client become aggressive towards them. The amount of self-injurious behaviour (biting) being exhibited by the client has lessened since he is wearing the protective clothing as he does not get the sensory stimulation by biting himself."
Stephan Van Vlijmen
Nulsen Disability Services, Australia
"We are having good success with the bite guards… The staff are finding the guards are protecting them well from pinches and scratches."
L. M.
Care Home & Hospital, Vancouver, Canada
"Bite Resistant Arm Guards have proved to be a worthwhile investment. They offer excellent, yet discreet protection and are durable and comfortable to wear."
Theresa Edwards, Programme Team Leader
Truro & Penwith College, Cornwall, UK
"In my field of helping people with disabilities, we often face daily challenges but with the peace of mind that our staff are well protected, we are able to attend to the needs of the clients without having to worry about becoming injured".
Sterling Barbosa
Valley Achievement Center, California, USA