Brand new Slash Resistant Clothing: SlashPRO® – made from Cut-Tex® PRO Fabric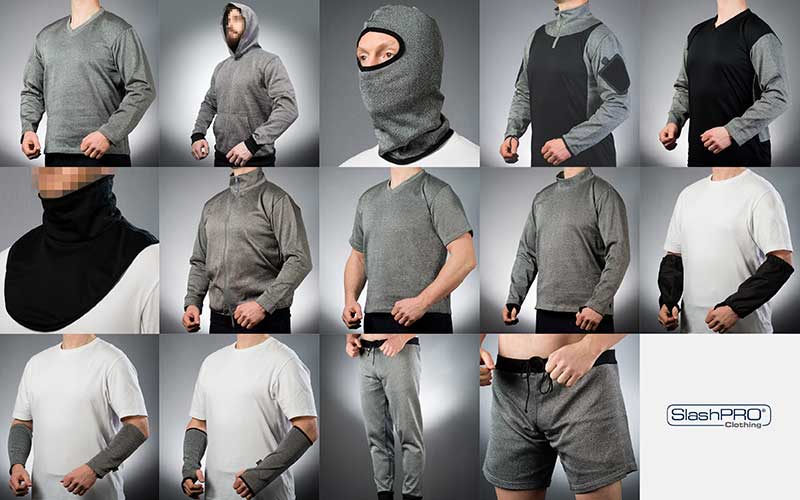 Our fabric is now being used to manufacture SlashPRO® Slash Resistant Clothing. SlashPRO® provides excellent cut and slash protection and is available in a wide range of products which include sweatshirts, hoodies, jackets, boxer shorts, arm guards and gloves.
The clothing range is designed for prison and corrections officers, homeland security professionals, those working within law enforcement, border control, immigration and everyone in the private security sector.
Slashing dangers are relatively frequent for these men and women. It is an occupational risk they face on a daily basis. Subsequent rapid blood loss often leads to fatality, and it is the mission of SlashPRO® to protect professionals at risk, with a range of easy-to-wear, slash resistant clothing.
The SlashPRO® clothing range provides extensive protection to body and limbs, also covering the five main arterial areas: Radial (wrist), Brachial (along bicep), Carotid (throat), Axillary (beneath arm pit) and Femoral (thigh region).
Orders for SlashPRO® clothing have been taken from highly regarded professionals, privately owned companies and government agencies worldwide, of which many have provided excellent testimonial to the quality of the clothing range.
Please visit www.slash-pro.com to view the full catalogue of slash and cut-resistant clothing, as well as testimonials and a filmed product demonstration.